Welcome to Hippity Hop!
Every Complete Order Will Receive An Email
Easy Online Reservations
Making your party and event reservations at Hippity Hop Bounce is fast and easy with online reservations system. Just click the link below and enter the date and times of your event. Then as you browse through the website you will be presented with only those items available on your date. You can also just explore all the categories and as you see items that are perfect for your party, just click the "Add to Cart" button on every product page, and build your party that way. That's it! It's easy as one, two, three! Let's get your party started now!
Start Here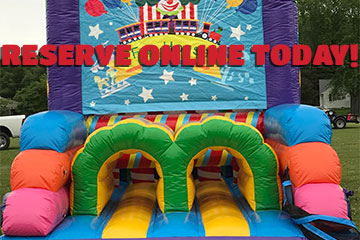 Obstacle Course & Large Games


Welcome to Hippity Hop Bounce of WNY! The personal touch customers are looking for is found at Hippity Hop Bounce House Rentals. Our family-owned business rents out bounce houses and other party supplies to customers in Erie County, Akron, Alden, Amherst, Angola, Arcade, Attica, Blasdell, Boston, Bowmansville, Buffalo, Chaffee, Cheektowaga, Clarence, Clarence Center, Colden, Cowlesville, Depew, Derby ,East Amherst, East Aurora, Eden, Eggertsville, Elma, Freedom, Getzville, Glenwood, Grand island, Hamburg, Holland, Java, Kenmore, Lackawanna, Lakeview, Lancaster, North Collins, North Evans, North Tonawanda, Orchard Park, Sardinia, Sloan, South Cheektowaga, South Wales, Springville, Strykersville, Swormville, Tonawanda, Town of Tonawanda, Varysburg, West Amherst ,West Falls, West Seneca, Williamsville ,and most of Western New York. Our mission is to make sure each and every customer is completely happy with the party rentals we've provided for them.